Trench Buckets For Excavators & Backhoes
Are you looking for a Trench Bucket for your excavator or backhoe?
Our trench buckets have a large side taper with a long floor and continuous radius skin to reduce drag and increase bucket performance. Our trench buckets have a proven bucket life – every contractor knows that a purpose built trench is a workhorse that pays its way. Don't be fooled by cheap imported imitations which aren't up to task!
Trench Bucket Uses
Trench excavator and backhoe buckets are also known as trenching buckets. These buckets are purpose built to easily dig narrow and/or deep trenches and are built to withstand harsh digging conditions in soil, sand, clay and other light to medium materials.
Trench Buckets Features
The main features of our trench buckets are:
Australian made – tough to suit our conditions
User friendly design featuring

Large side taper to prevent trench jamming and protect the sidewall from wear
Continuous radius skin to reduce drag and increase bucket performance
Dual boxing for strength

Variety of sizes and widths available to suit your needs
Strong and durable materials to support robust conditions
Highest quality materials
Custom designed and built to your specifications
Quick turnaround and delivery times
Trench Bucket Add-ons Available
We can add on extras for your trench bucket to spec your bucket for heavy duty work including:
Heal blocks
Cutters
Liners
Wear strips
Just let us know what addons you need!
Trench Bucket Sizing
We have trench buckets available with or without teeth. We can show you the different alternatives for teeth options and help you determine the best style and configuration to suit the work you do.
Our standard sizes are:
300mm
450mm
600mm
900mm

Or we can build a custom size trench bucket to suit your needs!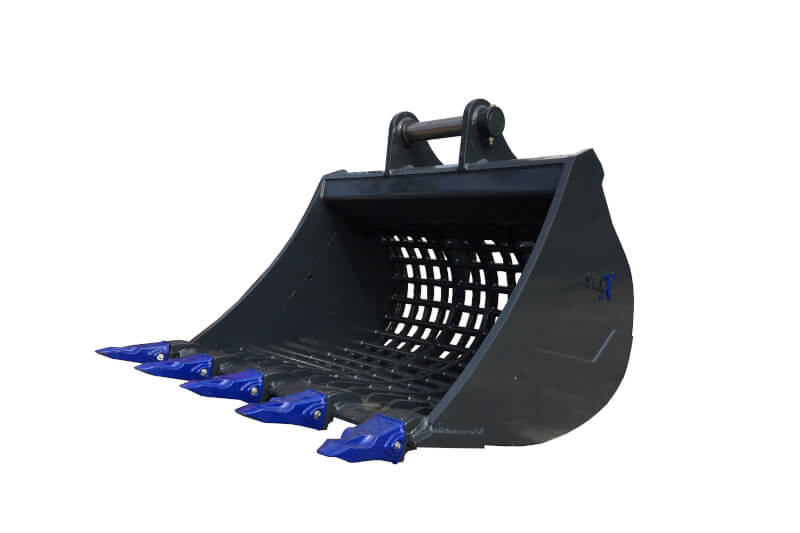 Sieve Buckets
Ideal for sorting and cleaning by general earthmovers and demolition, ShawX sieve buckets have a long front with full through bars to assist with rolling material through the bucket. Available in a range of styles and sizes, all sieve buckets are actual size to ensure correct material is produced. Your gauge can be custom made to suit the material.
Trench Buckets
Australian designed and built for trenching, ShawX trench buckets have a large side taper with a long floor and continuous radius skin to reduce drag and increase bucket performance. We have proven bucket life – when every contractor knows the trench pays for everything, don't be fooled by cheap imported imitations.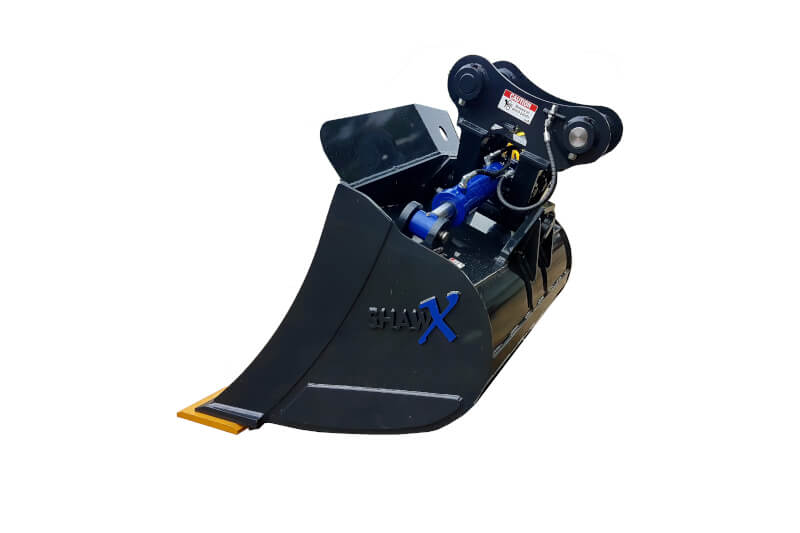 Tilt Buckets
Used for cleaning up, finishing and smoothing, ShawX tilt buckets are ideal for dams, drains, contours and batters. The unique design of a long floor, continuous radius skin, low headplate and centre pivot make for smooth operation. The open back design helps prevent wear and damage. We make all the parts, including rams, in-house and carry a full range of parts.
Trench Buckets For Sale
We stock a large range of trench excavator buckets and backhoe buckets. We can also custom design and build exactly what you need to suit your excavator and your job, from one tonne to over 100 tonne excavators.
Buy a ready made trench bucket today or have one custom designed and built by our team. Call us on 07 3286 3794.