Excavator Bucket For Sale
Heavy Equipment Manufacturer (14 – 200 Tonne)
Australian-Made Earthmoving Buckets

that are built to last
The unique design of ShawX Manufacturing's backhoe and excavator bucket gives you high productivity with less effort, saving you fuel and reducing the wear on your machinery. With Bisalloy wear parts and extra thick wear strips, our excavator buckets are heavy-duty and made to last.
We custom-build

and stock earthmoving buckets
We stock a large range of excavator buckets and custom design and build buckets to suit your specifications, from one tonne to over 100 tonne excavators.
ShawX buckets are:
100% Australian made
Strong and durable
Quality designed and tested
Suitable for all kinds of earthmoving machinery
Custom made to your requirements with quick turn around and delivery
Australian Made Excavator Buckets For Sale
Buy a ready made excavator bucket or have one custom designed and built by our team.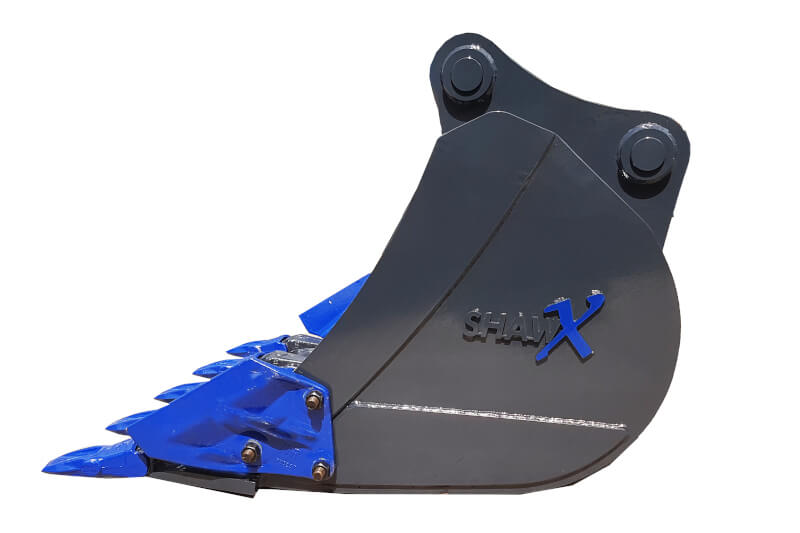 General purpose buckets
Our general purpose buckets are Australian designed and made for use in normal conditions by all types of general excavators. We start with a unique, user-friendly design that features a long floor, continuous radius skin and duel boxing for strength. Available in a variety of sizes, general purpose buckets come with or without teeth and the option of bolt on side cutters. This bucket is also available in our heavy-duty X-series range.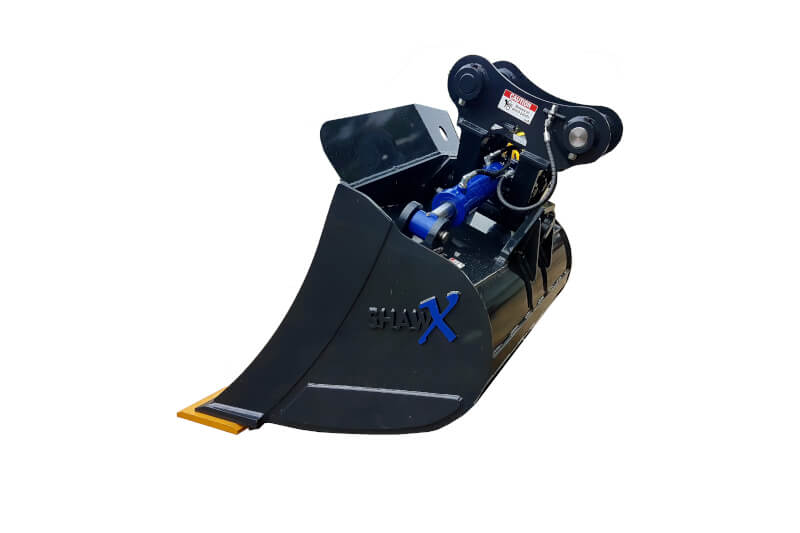 Tilt buckets
Used for cleaning up, finishing and smoothing, ShawX tilt buckets are ideal for dams, drains, contours and batters. The unique design of a long floor, continuous radius skin, low headplate and centre pivot make for smooth operation. The open back design helps prevent wear and damage. We make all the parts, including rams, in-house and carry a full range of parts.
Trench buckets
Australian designed and built for trenching, ShawX trench buckets have a large side taper with a long floor and continuous radius skin to reduce drag and increase bucket performance. We have proven bucket life – when every contractor knows the trench pays for everything, don't be fooled by cheap imported imitations.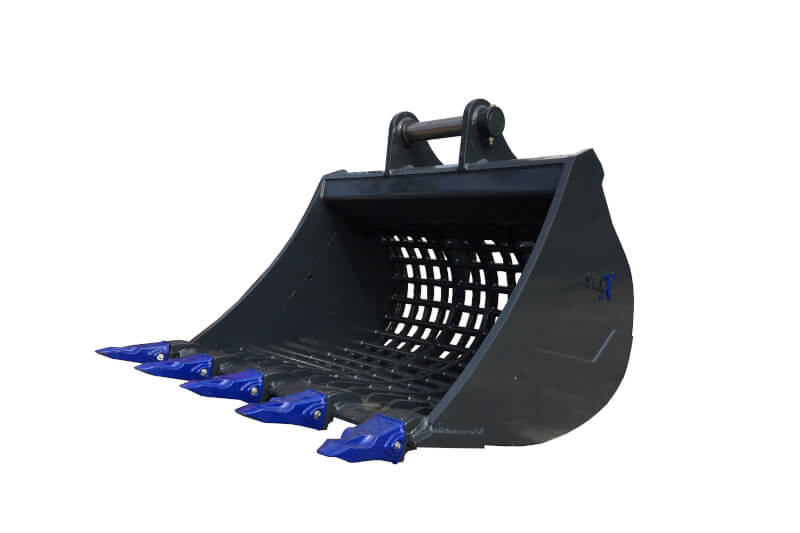 Sieve buckets
Ideal for sorting and cleaning by general earthmovers and demolition, ShawX sieve buckets have a long front with full through bars to assist with rolling material through the bucket. Available in a range of styles and sizes, all sieve buckets are actual size to ensure correct material is produced. Your gauge can be custom made to suit the material.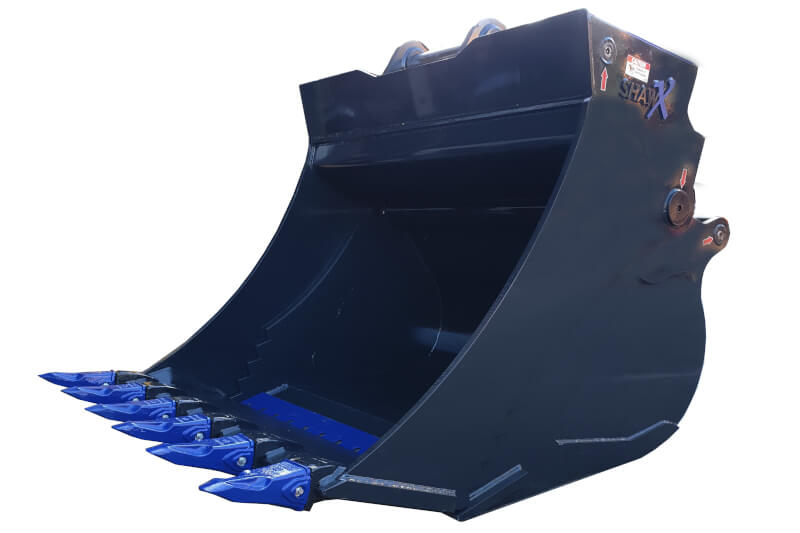 4-in-1 buckets
Used by demolition companies, rural contractors and farmers, the 4-in-1 bucket is ideal for cleaning up, demolition and general works. The ShawX 4-in-1 bucket has a twin ram, large capacity, large opening, front edge with teeth and bolt on edge for dozer edge. The design features heavy-duty guarding on all rams and hoses, making it suitable for severe conditions. These buckets can be used with a Quick Hitch to reverse its use as a front shovel bucket or backhoe bucket.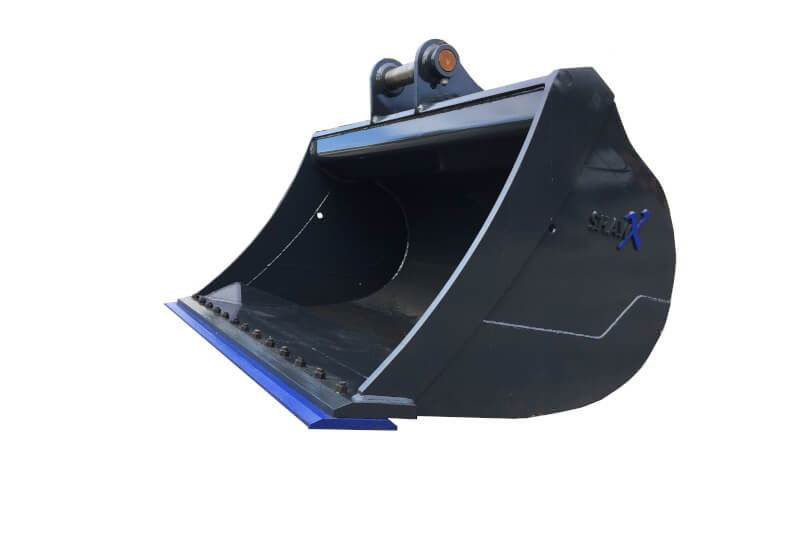 Batter buckets
Ideal for use by all general earthmovers for cleaning up, batters, dam and channel clean outs, ShawX batter buckets are lighter duty with a large front and continuous radius design, which makes these buckets a pleasure to use and increases machine productivity. Batter buckets are available in a range of sizes and bolt on edge comes as standard.
Loader buckets
ShawX loader buckets are designed to perform and manufactured to last. We adapt our design and purpose-build all different types and styles of loader buckets to suit specific applications and specifications. Available to suit all size loaders, our loader style buckets are ideal for tractors, loaders and backhoes.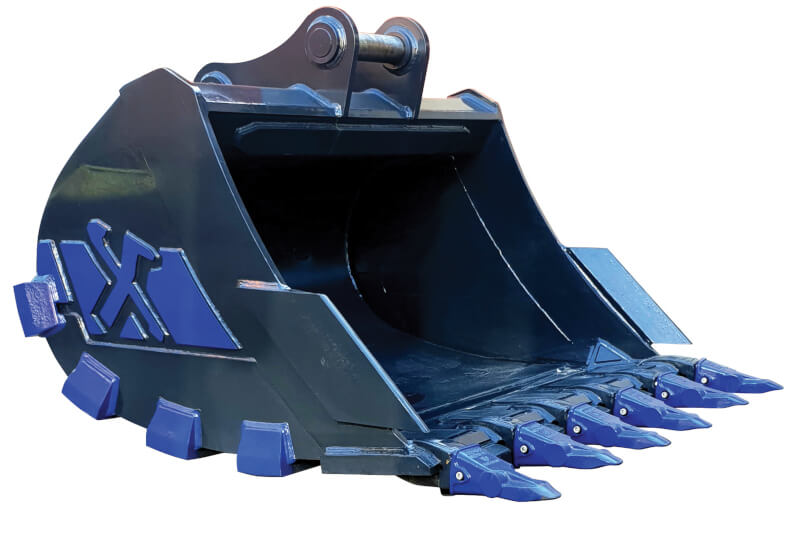 X-series buckets
ShawX X-series buckets are built tough from the ground up. Ideal for all heavy-duty and high abrasive work, including rock and quarry, our X-series buckets have a thicker headplate and legs, 2x under boxing strong backs and a rear ear saddle for additional strength and support. Each bucket is fitted standard with a 450-grade inner liner and additional 450-grade wear strips, heal blocks, side leg and cutting edge gum protectors, and is finished off with inner corner gussets and boxing protector. This bucket has armour in all the right places to provide years of digging with minimal downtime.
More about X-series
Can you help me choose the best excavator bucket for my needs?
Yes, we absolutely can. Give us a call and speak to one of our specialists to discuss your requirements and how it will be used. We can provide suggestions and recommendations to help you get the best excavator bucket for your needs.
Both Kenny & Brett have been earthmoving their whole lives and have experience across a wide range of jobs. They can even advise the best process for doing a particular job.
Ensuring you have the correct size bucket for the machine is very important to get maximum production and to ensure that your machine is not overloaded.
We are happy to speak to you over the phone about products, recommendations or solutions. We will even go to job sites to look over things. We partner with our customers and will do whatever we can to help their job.
What is the turnaround time to build a new excavator bucket for my machinery?
Most custom jobs can be delivered in around 6 weeks, but we recommend contacting us as early as possible to ensure that you have the equipment you need before the job is due to start.
Do you sell tractor buckets?
We don't sell agricultural tractor buckets, but we have a range of buckets suitable for use with your loader, excavator and skid steers.
I need a quick hitch for my operation, is this possible with your excavator buckets?
Yes it is, absolutely. We are a proud partner with 'Doherty' and also Doherty couplers so if any customers want to touch base with us we are able to help fit their machine with a quick hitch. But all of our attachments are made to be connected and fitted up to a quick hitch.
What are the advantages of a custom designed excavator bucket?
There are many advantages in a custom designed bucket depending on what the client is hoping to achieve. A specifically designed bucket to match the machine optimises the performance of the machine without putting adverse load on it, which incorporates fuel burn, efficiency, wear on the bucket and wear on the rest of the machine. So where a lot of customers see some real long term gains is in the life of the machine. Having the correct size and weight bucket on the machine saves our clients downtime of the machine and costly repairs.
Our clients come to us with a problem and we are able to offer a bucket / attachment that will be a solution to their problem and help them to do their job more efficiently and cost effectively. So we are able to speed up their process and increase their profit.
How is an excavator bucket capacity or volume calculated?
Excavator bucket capacity is calculated using cubic metres. Our engineers use 3D models to develop the equipment before we manufacture. Our engineers work out the cubic capacity whilst they are doing the drawings.
Can your excavator bucket teeth be replaced?
Yes, they absolutely can be replaced. All of our GET (Ground engaging tools), are replaceable and once again because we offer custom built buckets we can offer different brands and types of GET to suit the client. Some clients have a preferred style that they prefer to use. We can fit their attachments and we can offer them practical solutions around the best item to fit to their buckets.
Why choose ShawX as your Excavator Bucket Supplier?
Choose Shaw X because we custom make all of our buckets and we can custom build all of our buckets to suit you and to do exactly what you want it to do. Our buckets have a continuous curved design so that it reduces wear and load on the bucket and the machine.