Stick Rakes For excavators and dozers
Heavy Equipment Manufacturer (14 – 200 Tonne)
Custom-made Stick Rakes For excavators and dozers
for sale
ShawX Manufacturing manufactures and sells custom-made excavator and dozer stick rakes to suit your application.
Whether your work involves general land clearing or heavy excavation and earthmoving, we can provide the right attachment for the job. Our range offers longevity and practicality, and can be custom-made to suit any piece of machinery in your fleet.
With years of experience in the construction and earthmoving industry, ShawX is a trusted manufacturer and retailer of custom-made equipment and attachments that excel in performance and durability. We manufacture stick rakes to suit all makes of excavators and dozers so that you can get any earthmoving or construction job done.
Heavy-duty design
and hard-wearing construction
We custom design and build bulldozer, loader and excavator stick rakes to your requirements. Our heavy-duty designs and hard-wearing construction make our bulldozer, loader and excavator attachments ideal for land clearing, timber stacking, site clean ups and sifting through soil and rocks. They are an effective attachment for removing plant overgrowth and small trees with the staggered finger design enabling timber to flow freely while allowing dirt to fall through.
ShawX custom excavator and dozer stick rakes are:
100% Australian designed and made
Heavy-duty and hard-wearing
Made of the highest quality steel and components
Quality designed and tested
Custom made to order, to ensure they suit your application
Uses For Our Excavator Stick Rakes
An excavator stick rake allows for material to be sieved and sorted to remove any unwanted material, rock and debris, leaving only good soil or material behind. Our made-to-order excavator rakes are ideal for a wide range of jobs including:
Fast clean-ups
Debris clearing
Clean up following storms
Prevention of fire hazards
Vegetation management
Sorting and clearing small trees, shrubs and overgrowth
Stacking timber
Uses For Our Dozer Stick Rakes
Our dozer stick rakes can be used for moving loose timber in the paddock or right of way without accumulating dirt whilst pushing. The attachment holds the trees whilst generally vibrating the tree trunks, shaking out any dirt prior to the windrowing.
We focus on ease of use. Our products offer a walk-in design with the benefit of being a one-man operation. They can be easily removed to use the blade, or reattached to continue pushing timber. They also have stand-up legs attached so that they can be stood in the paddock whilst not in use.
User-Centred Design
The ShawX stick rakes also come in a folding design so that the side wing extensions can be easily folded to the centre for transport or moving through gates at a property. Whilst your machine can still be transported with the attachment still in place, the folded design is no wider than the original blade, making transport hassle-free.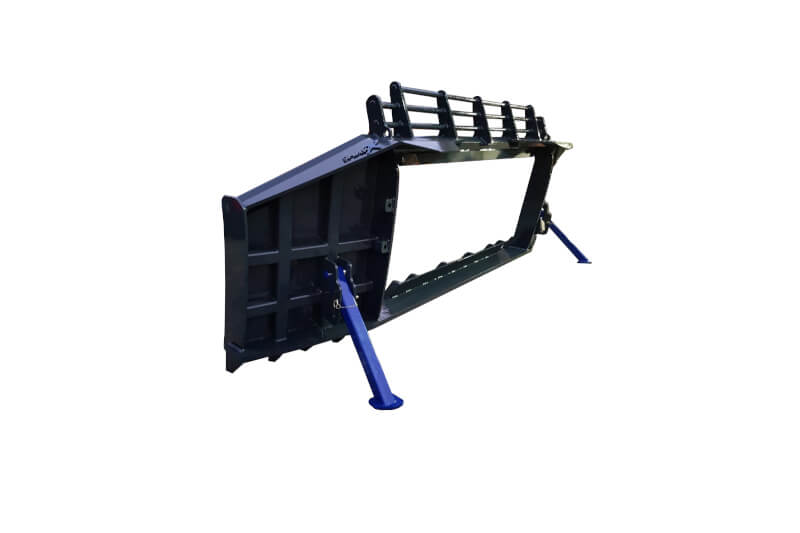 Dozer & Loader Stick Rakes For Sale
ShawX bulldozer and loader stick rakes have a heavy-duty design and are constructed with a thick lower beam with 450-grade feet, standard cutter bar and 80-grade side infill panels. The open headboard design allows vision while protecting your machine, and the angled wings ensure that material is kept in front of the blade, increasing productivity.
Our product provides a walk-in design with fold-up legs, enabling the rake to be positioned anywhere. The stand-alone system has a simple one-person clip-on design for ease of use, resulting in effortless operation and excellent performance. ShawX dozer stick rakes are considered the top choice for their:
Durability
Superior performance
Low maintenance
Resilience
Ease of use
Strong material and innovative design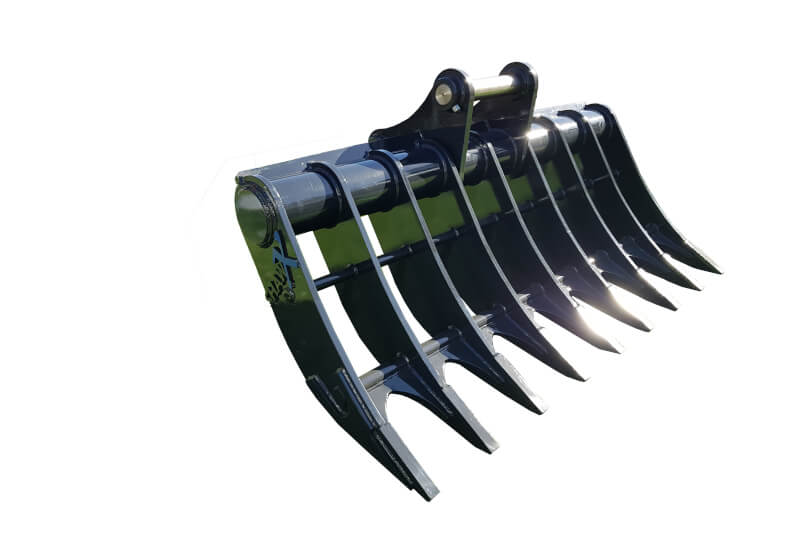 Excavator Stick Rakes For Sale
ShawX excavator stick rakes have a solid design and build. Our materials and custom designs are made for outstanding durability and resilience. They are versatile and adaptable to suit any job.
Our hollow bar beam design has wrap-around fingers and 450 grade wear pads with lower gussets for strength. Because all of our attachments are custom-made to order, we can accommodate any brand of machine and any requirement size for your project.
With every design made to order, our excavator stick rakes provide:
Strength and durability
Custom tyne spacing to suit your requirements
Simple operation
Versatility – suitable for a wide range of jobs
All made with high quality Australian materials
What is the width between the dozer stick rake tynes?
Our standard tyne width is 200mm. However, because these are custom-built in our workshop, we can make custom-width tyne spacings if required.
What is the width between the excavator stick rake tynes?
Our stick rakes are made to order so that the tyne spacing suits each customer's specific requirements.
Will the dozer stick rake fold in?
We offer two dozer stick rake designs. One is the width of the blade, and the other offers fold-out wings to give you extra width on your machine in the field.
We also accommodate the smaller, lighter machines with a clip-on lower comb. This is a more cost effective alternative in the lighter dozer stick rake range.
Will these stick rakes be strong enough?
The section of our stick rakes that engages with the ground (tynes) is made from 450 grade Bisalloy to ensure durability and long lasting power.